The Butterfly Girls are back in Michele Ashman Bell's new release Hometown Girl. The second book in the Butterfly Box Series, the much anticipated sequel to A Modest Proposal opens with Lauren, Chloe, Emma, Jocelyn, and Andrea endeavoring to navigate the twists and turns of their individual lives. Though they are each pulled by the varying forces in different directions their determination to support one another through thick and thin is as strong as ever.
In this book we find out more about Jocelyn, her life, and the forces that have shaped her. The book gets off to an unhurried start with a Butterfly Girl Reunion; for readers who haven't read the first volume the ample back story helps each woman come into focus. As the story builds steam, Jocelyn departs and, despite misgivings, attempts to begin a new life. Michele has penned a cast of affable townspeople in the small community where Jocelyn finds herself after inheriting her grandmother's house. The characters keep the story moving forward and the town itself comes alive through Michele's vivid description and attention to detail. With Michele's knack for intriguing dialogue we follow Jocelyn as she faces a series of difficult decisions.
When a secret she has kept woven into the depths of her soul for fourteen years begins to unravel, Jocelyn turns to the Butterfly Girls. Though they nurture her with support and understanding, she must summon inner courage to steer her life back on course. Handsome Jack Emerson is appealing to her, but he has secrets of his own and doesn't get too close. Michele tackles some difficult subject material with tact and we see Jocelyn emerge as a strong and capable woman.
All in all I found the Butterfly Girls to be an enjoyable read. I look forward to more installments in this series and to discovering more about Ava's mysterious death.
From the book:
Jocelyn Rogers's life is in a rut. Maybe she should step outside her comfort zone and move to Milford Falls, where she has inherited her grandmother's house. With the encouragement of the other Butterfly Girls, Jocelyn musters her courage and starts a new life.

However, when she arrives in the small town that holds both good and bad memories for her, she discovers the house in worse shape than she expected, and getting repairs done is anything but easy — especially when it comes to dealing with Jack Emerson, a man who seems to be agitated by Jocelyn and everyone else within a fifty-mile radius.

To make matters worse, she has begun to worry that moving back to the place where she once spent a troubled summer will expose the deep personal secret she has kept hidden for fourteen years. But Jack also has a hidden secret that has prevented him from getting close to anyone in a long time. And now it seems that interfering neighbors may prevent both Jack and Jocelyn from moving forward with their lives.
Michele is having a launch party today!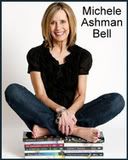 Saturday, July 17th
11 a.m.- 1 p.m.
Redwood Seagull Book
(1720 S. Redwood Road, SLC)
Giveaways, gift baskets, Utah Truffles, refreshments, fun, prizes. Don't miss the party!
Read more about Michele and her books on her
website
or
blog
.
Read my August 2009 interview with Michele
here
.